Elena Elisseeva
Elenathewise
Toronto, Canada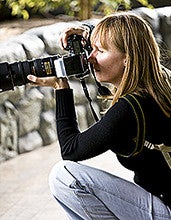 statistiche account
File online:

13,734

Vendite totali:

114,921

Visibilità portfolio:

2.17%

Visibilità database:

0.21%

Vendite per immagine:

8.37

Messaggi Forum:

1

Caricati ogni mese:

91.56 in media
BIO
Elena Elisseeva is a professional photographer located in Toronto, Ontario, Canada. Her primary focus is stock and fine art photography with over 15,000 images in her portfolio. One of the best-selling stock and art photographers, she covers a wide range of subjects in her portfolio, favorites being lifestyle, food and nature. Her images are selling around the world and have appeared in numerous print and web publications, including major newspapers and magazines, and advertising from web to bi ... di più
Elena Elisseeva is a professional photographer located in Toronto, Ontario, Canada. Her primary focus is stock and fine art photography with over 15,000 images in her portfolio. One of the best-selling stock and art photographers, she covers a wide range of subjects in her portfolio, favorites being lifestyle, food and nature. Her images are selling around the world and have appeared in numerous print and web publications, including major newspapers and magazines, and advertising from web to billboards. Elena has been chosen as a featured photographer on many agencies and has been interviewed and profiled for numerous on-line publications and blogs as well as print magazines and newspapers, including UK's Professional Photographer magazine.
Elena and her team are dedicated to quality. Her images are digitally processed and retouched to comply with the highest industry standards. Elena's portfolio is fresh and rapidly growing, contains wide variety of subjects and keeps up with new ideas and concepts of modern life.
nascondi
Sito web:
http://prints.elenaphoto.com
Seguimi:
Iscritto:
September 19, 2005
Attrezzatura:
Nikon D3X, Nikon D300, various Nikkor professional lenses. LaCie 526 LCD wide screen monitor with colorimeter. Tripods, reflectors, diffusers, SB 800/SB 900 flashguns, softboxes for them. I prefer working with natural light and always do it when possible.
Soggetti preferiti:
People, natural landscapes and macro, food and drink, healthy life and clean environment.
Stock rank:
Fotografo affermato tra November 3, 2014 e November 10, 2014