Hakeem Saleh
Hakeemistheman
Chico, United States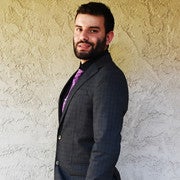 statistiche account
File online:

8

Vendite totali:

2

Visibilità portfolio:

0%

Visibilità database:

0%

Vendite per immagine:

0.25

Messaggi Forum:

0

Caricati ogni mese:

0.13 in media
BIO
I'm an Eighteen year old from Chico California. When I was a small child, I always used to play around with disposable cameras until one day, on my 10th birthday, my dad got my my first digital camera. Back then, my 3.2 megapixel Sony that was the size of a small brick was considered top of the line for point and shoots, and I felt like the coolest kid around. I had that thing for a few years and took pictures of family events and flowers, I was obsessed with them for some reason. After abo ... di più
I'm an Eighteen year old from Chico California. When I was a small child, I always used to play around with disposable cameras until one day, on my 10th birthday, my dad got my my first digital camera. Back then, my 3.2 megapixel Sony that was the size of a small brick was considered top of the line for point and shoots, and I felt like the coolest kid around. I had that thing for a few years and took pictures of family events and flowers, I was obsessed with them for some reason. After about three years I upgraded to a twelve megapixel point-and-shoot which took awesome photos. Two years later I upgraded to another 12 megapixel camera that was still point-and-shoot, and I became obsessed with sunsets (As I'm sure every photographer has been in their lifetime). I always heard about DSLR's but was intimidated by them. Finally when I turned 17, I took the plunge and asked for a DSLR for my birthday. I was very lucky and my parents bought me a Canon T3. I was instantly addicted to playing with the settings and soon found that people were very intrigued with my photos, so I started a facebook page. (Facebook.com/530dream) The facebook page has turned into a small part time job for me, and I do portraits, parties, and I've done one wedding. A few months into owning my T3, dead pixel started appearing so I returned the camera and was given store credit, and decided to pay the difference for an even better 18 megapixel Canon T2i, which I currently use. I thought I would give stock photography a try since it gives me something productive to do with my spare time, and as a college student I could use the extra money. I hope that you enjoy my pictures and that publishers find them useful for their needs. Thank you!
nascondi
Sito web:
http://Facebook.com/530dream
Iscritto:
January 7, 2013
Attrezzatura:
I use a Canon T2i and occasionally an Iphone 4s when my main camera is not available.
Soggetti preferiti:
I love landscapes, portraits, and putting every day or seemingly mundane objects into a position that makes them more interesting. I also love photography pets and farm animals.
Stock rank: